UPDATE: PROJECT WOLVERINE
10.07.20
We are thrilled to announce that the New Way family in Northeast Mississippi is now over 100 members strong! We remain firmly committed to further expansion in Booneville and look forward to what the future holds as we continue to grow.
---
09.25.20
Readers of the Booneville Banner Independent voted New Way Trucks Prentiss County's Best new Business in the publication's annual Readers' Choice Awards. It is just the latest recognition we have received for our work in Prentiss County.
---
09.10.20
Our team in Northeast Mississippi continues to do phenomenal work. Cobras are rolling off the production line each day, and Sidewinder bodies have been completed and have begun mounting (pictured). Additionally, we are now up to nearly 100 employees at the Booneville facility.
---
05.13.20
On May 13th, New Way celebrated our first 100 percent Mississippi Made Cobra in Booneville. This truck, completed in March, marks the first truck manufactured using components entirely sourced from the Booneville plant. Up to that point, trucks on the Cobra and Viper line included a combination of parts and components from our facilities in Iowa.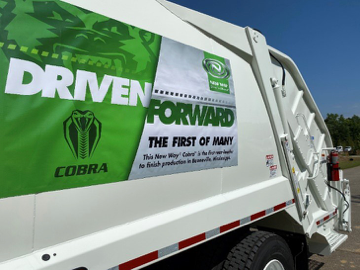 ---
04.30.20
New Way is happy to report that both the Cobra/Viper rear-load and Sidewinder XTR ASL lines are online. Our operational and production rates continue to increase. In addition:
All equipment is now up and running
The paint booth is up and operational
Construction on front offices is nearly complete
A welding instructor is present at the facility throughout the week to continue coaching new employees on New Way production standards
---
03.31.20
Since the manufacturing facility in Booneville opened in January, there has been no shortage of excitement. Job applications continue to pour in, and the Cobra/Viper production line is fully operational as new units have begun rolling out. The Sidewinder line should be up and running soon: it's scheduled to come online in April.
---
03.06.20
We'd also like to extend a massive thank you to our newest members of the New Way family in Booneville on this Employee...

Posted by New Way Trucks on Friday, March 6, 2020
---
02.28.20
It has been just over a month since the first welding arc was struck in Booneville, and we're off to a great start; in fact, progress continues as the first units near completion. Our team continues to train new hires at our headquarters in Scranton before sending them down to begin work at 1 Wolverine Drive. To date, we have rotated 45 employees through Scranton for training. Production on our Cobra™ and Viper™ rear-loaders is humming along; the production of our stock Sidewinder XTR™ ASLs will begin in the next 30 to 60 days.
A few recent developments include:
Plasma table and laser are now online
Press brake is operational
Office walls are up and painted
Hiring is ongoing - so far, more than 60 people have been hired or are being onboarded
The first four Cobra bodies are completed
---
01.28.20
Project Wolverine is shifting into high gear. Every day, we are making strides in preparing the Booneville, Mississippi, facility for production and educating new employees on production processes. Groups of Booneville welders, engineers, and hydraulics specialists are being trained in Scranton, Iowa, for both Cobra and Sidewinder product lines. On-site, we have reached the following milestones:
Jigs, fixtures, and fabrication equipment delivered and assembled
Cobra unit kick-bars, load sills, troughs, tailgates, roofs, hydraulics, and miscellaneous parts have shipped
Installed fabrication equipment (more to come)
First parts have begun production (rear loader troughs)
First welding arc was struck on January 20th, marking Mississippi's first New Way Cobra
Gaining media attention, our workforce training partnership with Northeast Mississippi Community College was recently featured on a WTVA local news segment called "Skilled to Work".
---
12.31.19
On December 3-5, New Way hosted a hiring fair and initial round of interviews at our new plant in Booneville, Mississippi. We're now standing at over 680 applications for 100 job openings. The building continues to be prepped, and equipment shipments remain a constant. The first round of job offers have been extended, and new hires will initially travel to Iowa to receive two weeks of robust on-the-job training from our current employees. Production is slated to begin in January.
---
11.20.19
In case you missed it, we recently announced some huge news - New Way Trucks is expanding manufacturing capabilities to a new facility in Booneville, Mississippi starting in 2020. Project Wolverine is already off to a blistering start. Equipment deliveries have already begun, and we're holding a hiring career fair on December 3rd. To date, over 475 applicants have expressed interest in joining the New Way family. It doesn't look like we'll have any trouble filling the 100 initial open positions!
---