New Way® History & Overview
A Proud Iowa-Based Garbage Truck Manufacturer
New Way Trucks, a family-owned company spanning three generations of principled leadership, is the cornerstone brand of the central Iowa-based McLaughlin Family Companies. New Way is the largest privately held manufacturer of refuse equipment in North America and one of the fastest-growing companies in the $91 billion North American solid waste industry. Our equipment is currently operating in all 50 states, across Canada, Latin America, Asia, and beyond.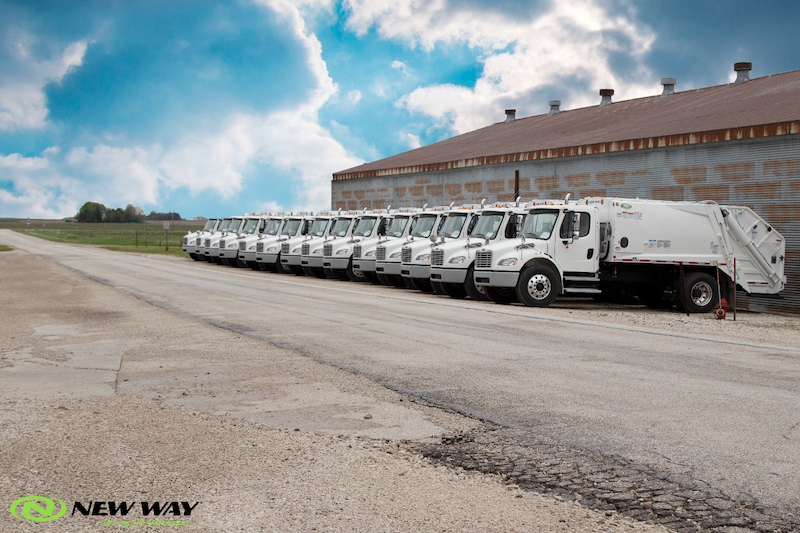 Our industry-leading Distributor Network is the bedrock of our organization and covers the entire U.S., Canada, Puerto Rico, Mexico, South America, the Middle East, and Asia. 
At New Way, we believe that all solid waste is local. This is visible in the equipment variations our customers request. To meet that need we manufacture the widest product lineup of any refuse equipment manufacturer. With nearly 40 models of eleven different product lines of mobile refuse collection equipment, there is no refuse collection need that New Way Trucks cannot meet. Our product lineup features six rear-load, three automated side-load, a satellite side-load, and two front load-models ranging in size from 6 yd³ to 43 yd³. We also manufacture K-PAC self-contained and stationary solid waste compactors and, via New Way FleetForce Rentals, the company offers the only direct-from-manufacturer refuse truck rental program in the industry.
None of this would be possible without our employee family. New Way has been blessed with great people since day one, and our employees have always been our most valuable asset. We proudly continue to invest in training and educational opportunities for our employee family. Remarkably, nearly a quarter of our team in Iowa has worked for us for over a decade.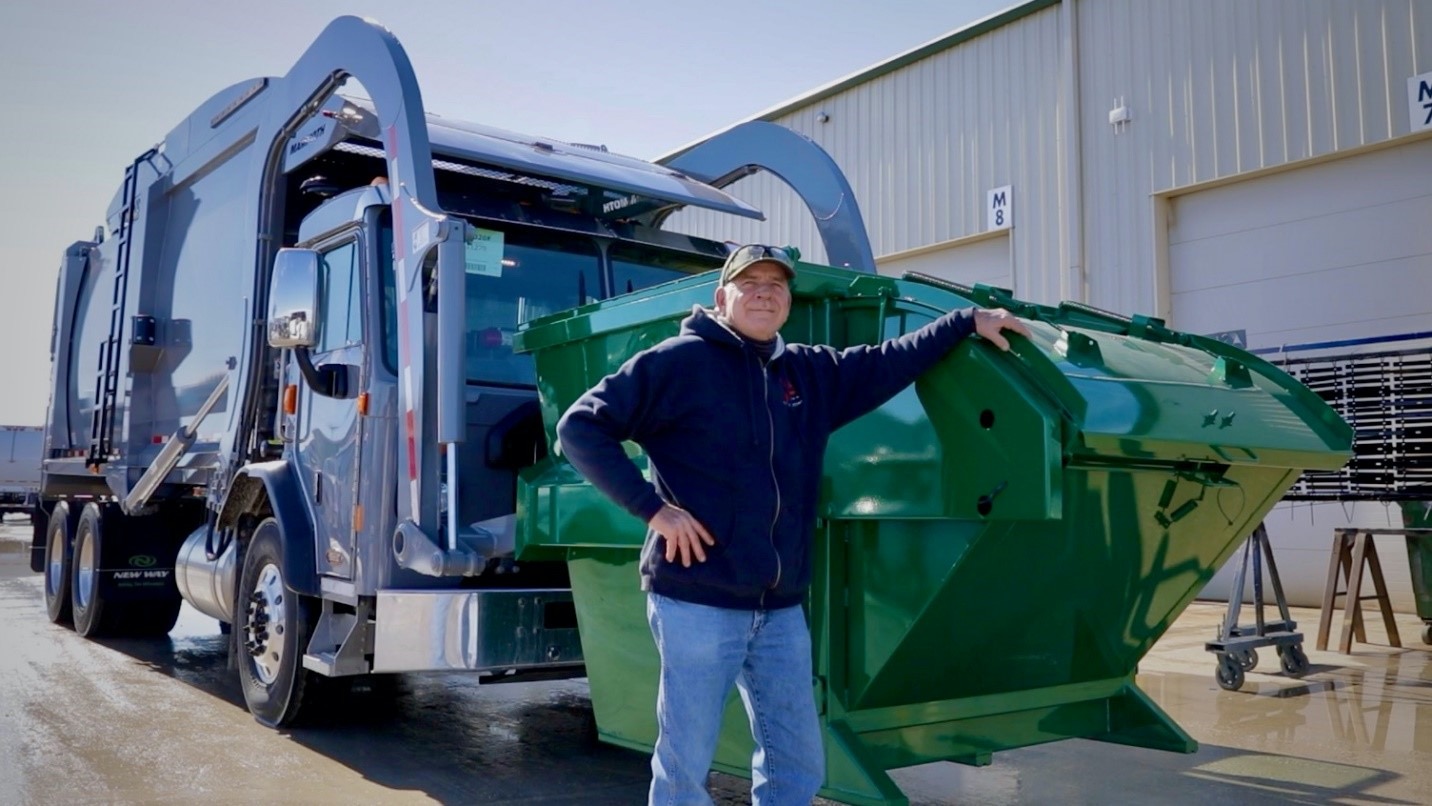 In addition, New Way is a key part of the industry's move to alternative fueled vehicles and offers factory Compressed Natural Gas (CNG) integration on most models.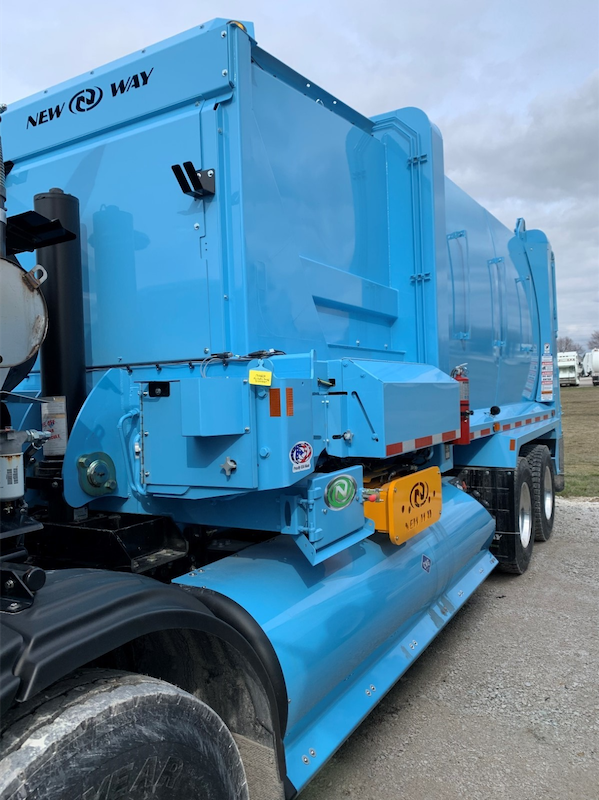 We are also proud to stand at the forefront of the battery-electric refuse collection vehicle movement. New Way is further along in battery-electric vehicle (BEV) refuse applications than any other body manufacturer. We have more BEVs in service today than any of our competitors and these New Way BEVs are working and on route every day. 
New Way Trucks is proud to have aided in developing the most advanced mobile refuse collection vehicles in the world and to have played a major role in affecting positive, sustainable change.
Small-town Values, Global Impact
Our home community is a place where people still leave their car doors unlocked, moral family values are of the utmost importance, and a hard work ethic has been passed down through generations of Iowans. This work ethic and dedication to growth pairs nicely with the ability to innovate and a willingness to learn that has resulted in New Way Trucks being able to offer the widest, most advanced product line of refuse trucks in the solid waste industry. 
We have evolved in many ways since our humble beginnings as Scranton Manufacturing repairing farm equipment & painting in a barn in Scranton, Iowa in 1971.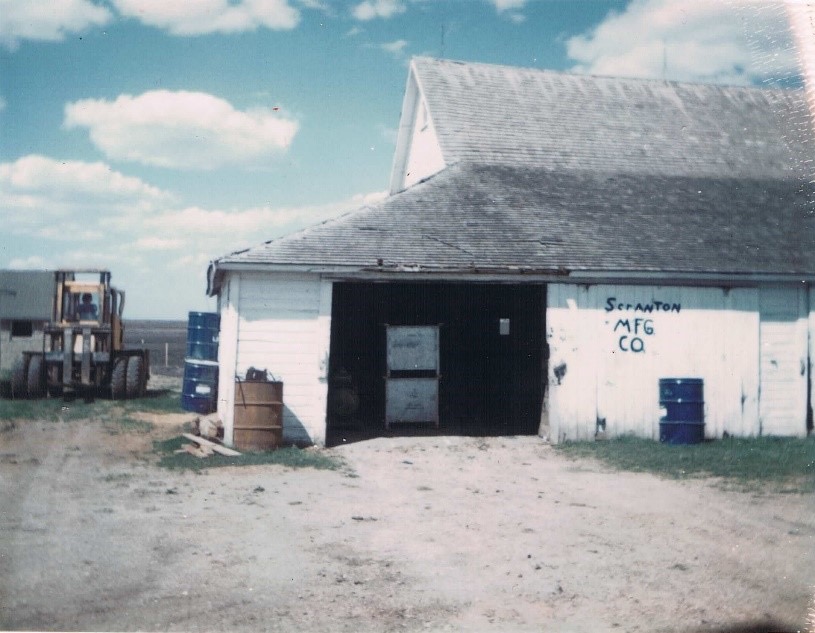 Scranton Manufacturing and New Way have long conducted business according to our homegrown values: offer the highest-quality product for the customer, provide impeccable service, and treat the customer with respect.
New Way Trucks is still headquartered in Scranton, Iowa with manufacturing facilities in nearby Carroll and, as of January 2020, a 152,000 square foot operation in Booneville, Mississippi. New Way began operations at another manufacturing facility in the same Booneville industrial park in 2021. The 66,000 square foot plant is home to a subassembly manufacturing operation that supports all New Way facilities in Iowa and Mississippi.
All of us at New Way are excited for what the future holds as we continue to be a major player in the solid waste industry not only in North America, but throughout the world.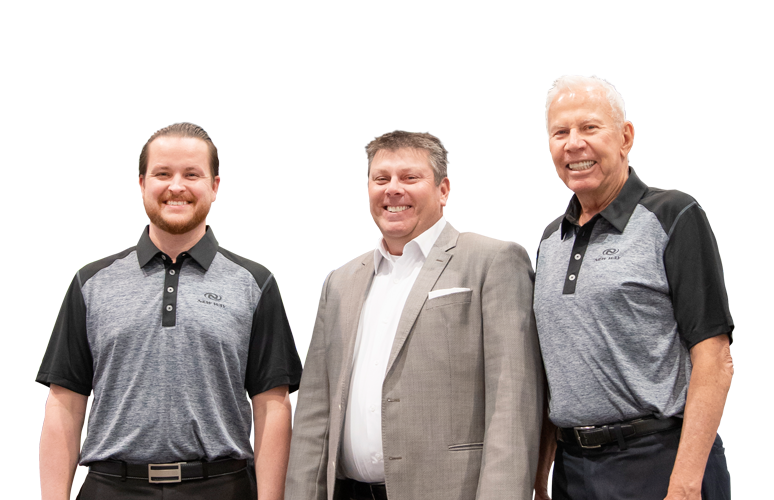 The McLaughlin Family has continually provided values-driven leadership across generations. Pictured from left-to-right are Johnathon (Executive Vice President), Mike (CEO), and John (Founder). Since 1971, the McLaughlin family has presided over a diversified portfolio of businesses that have grown to include refuse and recycling equipment, animal control and mobile veterinary equipment, high-performance vehicle manufacturing, new and used automotive sales, automotive parts and car care products distribution and sales. To learn more about McLaughlin Family Companies, visit mcfamco.com.