New Way® History & Overview
A Proud Iowa-Based Garbage Truck Manufacturer
New Way® Trucks, a family-owned company, is a highly motivated team of experienced and talented individuals committed to innovation, quality, and customer satisfaction for more than 49 years. New Way® refuse trucks represent the best values in the industry with superior service and support over the life of the product. Combining economy with safety, performance, and durability, at New Way®, we're proud to manufacture the finest waste-management equipment for customers.
New Way® offers a full line of affordable refuse equipment which includes: front loaders, rear loaders, satellite bodies, recycling bodies, roll-off systems, side loaders and automated side loaders in sizes ranging from 6 yd. to 43 yd. We also offer factory CNG integration on most models, resulting in quicker turnarounds and lower costs for customers.
Small-town Values, Global Impact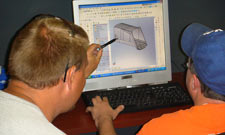 Our small-town location in America's heartland still boasts unlocked car doors, moral family values, and a hard work ethic passed down through generations. This work ethic and dedication to the job, along with the ability to innovate and willingness to learn, is demonstrated in the cutting edge, high-quality products New Way® produces.
President John H. McLaughlin has used the philosophy of Henry Ford to surround himself with people who know their job. "I have instilled my ethical values, attitudes, outlook, and philosophy in the best team possible — a team of highly qualified, educated people who respect God and country and appreciate the lifestyle and values of small-town America," said McLaughlin. New Way® considers our people to be our most valuable asset, so we continually invest in training and educational opportunities for all employees.
We remain one of the industry's most innovative garbage truck manufacturers by focusing on research, adaptability, and customer value to ensure we produce products that serve our customers' specific needs. "We value you, the customer, and your satisfaction is our main responsibility. You are our boss, and we will pay close attention to what you say," said McLaughlin. "We are responsive to your ideas and will treat you fairly, building you the finest garbage trucks with support and service that will continue over the life of the product in an ethical and timely manner. We want to make sure we understand all of your needs and always offer superior quality products at a fair value."
---
---
Who Is New Way®?
Michael B. McLaughlin, CEO, University trained with 30 years of business and sales experience.
John H. McLaughlin, Co-Founder and President, University graduate with over 60 years of business and professional experience.
Steve Goetsch, Chief Operating Officer.
Kim Goetsch, Chief Impact Officer.
Tom Vogl, Chief Financial Officer, University graduate, CPA with over 15 years of financial experience.
Jim Ober, Vice President of Operations, University graduate with over 30 years of engineering and manufacturing experience.
Don Ross, Vice President of Sales and Marketing, University graduate with over 30 years of waste industry experience.
Johnathon McLaughlin, Executive Vice-President
Mike Dryden, Director of International Accounts
Wayne Grundmeier, Director of National Accounts
Chris Milligan, Engineering Manager
Jason Rolfes, Parts Manager
Randy Halbur, Warranty Administrator
Keith Kult, Inside Parts Sales
Don Woerdehoff, Service Manager
Lucas Gray, Human Resources