Best Practices in Food Waste and Organics Collection Operations
11.01.17 | By Don Ross
The changing ton continues to evolve. Equipment manufacturers are adapting to this change and developing specialized equipment that optimize the waste stream to maximize collection efficiencies. An auger packing system is one of these innovations.
---
The New Way Trucks Roto-PAC is an example of auger technology at work in a collection vehicle.
Segregated food waste and organics collection present different challenges compared to that of conventional municipal solid waste or recyclables. Alone, food and organics waste contain high liquid content and as wastes are segregated, the characteristics of the municipal solid waste stream change. Gone are the food and beverage containers, packaging materials, and other household items that help to absorb these liquids and their smells. The food waste and organic materials become something resembling a slurry that conventional collection vehicles simply push around into every nook and cranny in and out of the truck body. Modern manufacturers of organic waste collection trucks must consider and optimize for these specific waste stream differences. Following are four important challenges to consider when collecting organics and food waste.
#1: High Moisture Content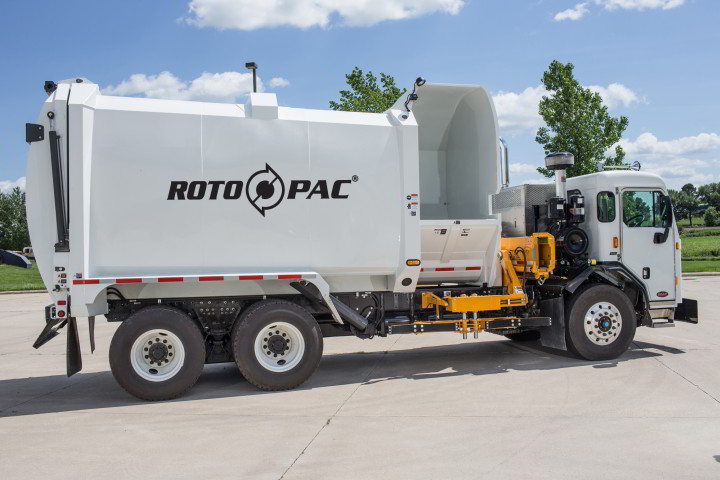 As seen here in the New Way Trucks example, the body is watertight and contains liquids. Hydraulic cylinders are eliminated further simplifying maintenance.
High moisture content contributes to weight issues and spillage. This can mean fewer homes collected in order to not risk vehicle overweight conditions and a higher potential for leakage from conventional, non-sealed bodies with typical bulkhead designs. Watertight truck bodies, including their charge or loading hoppers, are important because liquids can flow forward and around packing panels and, in some cases, wash over body bulkheads dropping garbage fluids onto the ground, engine, transmission and the back of the cab. Weight and payload translate to dollars for haulers so having the highest available payload means bigger collection routes and fewer disposal trips while still remaining within the legal weight limits.
#2: Low Hopper Displacement
Low hopper displacement leads to blowing litter and frequent packing by the operator to keep the hopper clear for the next cart of waste. If waste is not quickly transferred into the body compartment and held in place, waste can push back in the hopper while litter can be blown out. An ideal solution can displace waste at a rate of 7 cubic yards per minute, while a one-way screw auger design prevents waste from springing back into the loading hopper. The hopper is always empty for the next cart and litter cannot escape and an auger has far fewer moving parts to break. Six bolts and an auger can be easily replaced.
#3: The "Yuck" Factor
Organics and food waste can cause the "yuck" factor. Food waste is wet, can smell and is acidic in nature. These factors wreak havoc on packing cylinders and other surfaces, and liquids permeate into every conceivable opening in a truck body. Trucks designed for organics should be watertight and designed to contain liquids and prevent them from contacting moving parts—ideally 40 inches above the floor, the highest available. Cleaning behind a conventional, non-sealing packing blade is always a chore. A sealed charge hopper also eliminates the need for driver clean out, saving them time while at the same time not exposing the driver to waste materials.
#4: Difficulty of Compaction
Dense organic wastes can be difficult to compact or load. Food waste can take on the consistency of a slurry and when mixed with other organics such as yard waste, leaves, and small branches, can be difficult to compact with conventional flat-packing panel designs. Special consideration should be given to the method of compaction to address the type of materials of being collected. Using organic waste collection trucks with an auger packing system enables efficient processing of the different waste streams together, blending the slurry-type food waste with the yard waste for high compaction. Higher waste densities are also preferred by processing and disposal facilities. Landfill equipment does not have to spend as much time densifying delivered waste.
Adapting to Change
The changing ton continues to evolve. Recyclers are dealing with less paper and more containers, and with waste segregation playing a critical role in continued diversion and recovery strategies, garbage collectors are seeing a similar shift in the makeup of the traditional ton of municipal solid waste.
Equipment manufacturers are adapting to this change and developing specialized equipment that optimize the waste stream to maximize collection efficiencies. The auger packing system is one of these innovations. The auger overcomes the food waste and organics issues that traditional packer panel designs are challenged by, and makes a dirty job more efficient and productive.
---
Don Ross is Director of Sales and Marketing with McLaughlin Family Companies, parent company of New Way Trucks and K-PAC Compactors (Scranton, IA). Don is a 30-year solid waste industry veteran and has been an integral part in it's advancement. Prior to joining New Way Trucks, he managed many solid waste and recycling consulting projects around the world. Don is the Director of the SWANA Collection and Transfer Technical Division and currently serves on the National Waste and Recycling Association's (NWRA) Supplier Board of Governors. Don can be reached at dross@mcfamco.com.