New Way Trucks Unveils New Semi-Automated Auger-Driven ROTO PAC®
07.29.21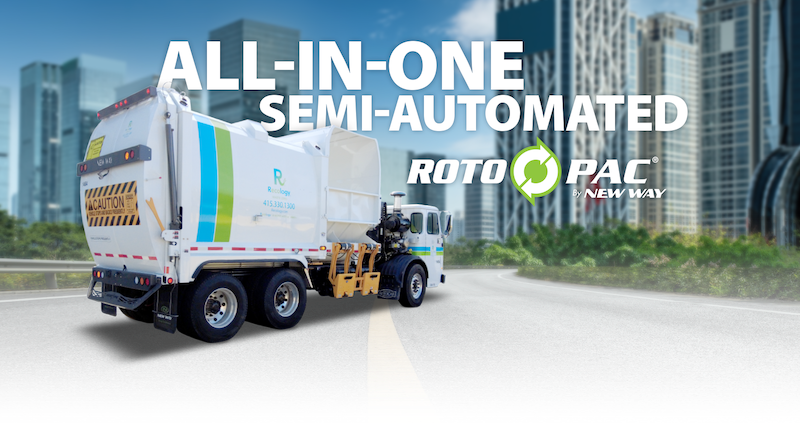 Scranton, Iowa - New Way Trucks, the largest privately held manufacturer of refuse equipment in North America, recently introduced the industry's latest innovation in refuse collection technology at Waste Expo 2021. The first-of-its-kind semi-automated New Way ROTO PAC® leverages the speed, compaction power, and agile design of the original fully-automated ROTO PAC with new semi-automated collection capabilities.
The addition of an extended loading hopper and tippers for standard roll carts puts commercial organics and food waste within easy reach of the watertight ROTO PAC body with its auger processing design. ROTO PAC's proven ability to manage municipal solid waste and recyclables–in addition to organics–can now be applied to any dense urban route setting thanks to the new semi-automated configuration. Along with the curbside tippers, the new unit is available with street-side tippers as an option.
The New Way ROTO PAC is the first auger-driven collection vehicle in North America. Its patented design displaces waste three times faster than conventional pack-panel hydraulic systems while allowing for a lightweight, shorter, and highly maneuverable vehicle capable of payloads greater than traditional vehicle designs. ROTO PAC is available in fully-automated–and now semi-automated–configurations.
About New Way Trucks
New Way Trucks is the cornerstone brand of the central Iowa-based McLaughlin Family Companies, a diversified portfolio of businesses that include refuse & recycling equipment, animal control and mobile veterinary equipment, high-performance vehicle manufacturing, new and used automotive vehicle sales, and automotive parts and car care products distribution and sales. To learn more, visit newwaytrucks.com and mcfamco.com.