New Way Trucks Partners with BYD to Deliver Three Battery-Electric Refuse Trucks to City of Ocala, Florida
08.24.21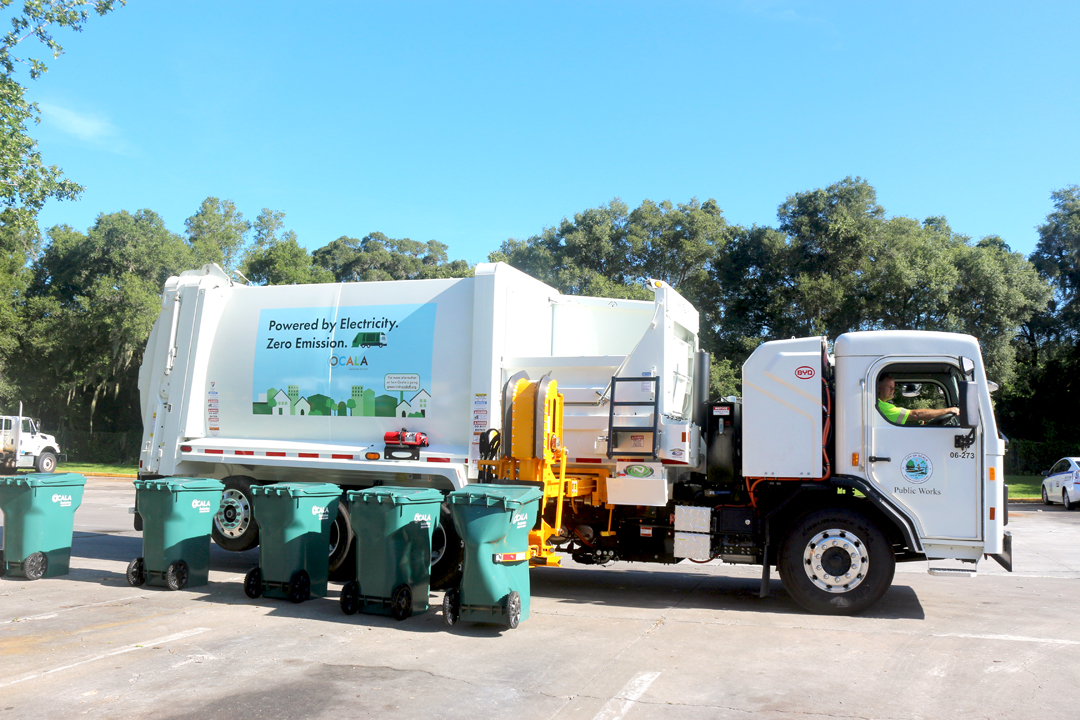 Ocala, Florida – New Way Trucks, the largest privately-held manufacturer of refuse equipment in North America, and its distributor Southern Sewer Equipment Sales (SSES), recently delivered three battery-electric New Way Sidewinder XTR™ automated side loaders (ASLs) to the City of Ocala, Florida. Mounted on the BYD (Build Your Dreams) electric platform, the three ASLs mark one of, if not the largest, one-time delivery of battery-electric refuse trucks the North American solid waste industry has ever seen.
"New Way continues to lead the industry in battery-electric vehicle (BEV) refuse applications and currently has more BEVs in service today than any of its competitors," said Don Ross, Vice President of Sales and Marketing for New Way. These New Way BEVs are working and on route every day in both traditional rear-load (RL) and ASL configurations. New Way continues to gain momentum with several units on order in various configurations, some of which will mount on next-generation platforms.
"New Way Trucks is proud to help drive the industry forward by manufacturing environmentally sustainable refuse equipment for our customers," said Mike McLaughlin, CEO of New Way Trucks. "As a leader and steward of innovation in refuse truck body manufacturing, it is up to us to forge a new way forward that includes an emphasis on sustainability."
The City of Ocala is among the first municipalities to adopt BEV refuse technology in the country. Ocala received an EPA grant to replace heavy-duty diesel-fueled trucks with zero-emission BEVs and chose to partner with industry leaders New Way and BYD. Deploying the units will result in fuel cost savings, reduced diesel emissions, and operational efficiencies.
Despite pandemic supply chain issues, New Way was able to complete the bodies and upfitting in record time, allowing SSES to deliver the three New Way BEVs in July 2021 as requested. The units are now servicing residential routes following an outdoor media day hosted by the City of Ocala's Public Works Sanitation Division on Wednesday, August 18th.
"Incorporating alternative fuel delivery systems into our refuse collection bodies continues to be a focus," says New Way Executive Vice President Johnathon McLaughlin. "New Way was among the first to integrate hybrid drive systems into refuse trucks when first introduced, and later compressed natural gas. Now, New Way is proud to help set the industry standard in the integration of battery-electric refuse equipment."
About New Way Trucks
New Way Trucks is the cornerstone brand of the central Iowa-based McLaughlin Family Companies, a diversified family-owned portfolio of businesses that include refuse & recycling equipment, animal control and mobile veterinary equipment, high-performance vehicle manufacturing, new and used automotive vehicle sales, and automotive parts and car care products distribution and sales. To learn more, visit newwaytrucks.com and mcfamco.com.